Boston Radio:: 1920-2010 (Images of America Series)
BOSTON RADIO: 1920-2010


Author: Donna L. Halper

ISBN: 9780738574103

# of Pages: 128
Publisher: Arcadia Publishing
On Sale Date: 02/21/2011
I saw this book at the Harvard Coop last night and it is a trip back into time when radio was a much bigger part of our daily life than it is today.
When I was a teenager I would listen to stations like WMEX and WBZ as often as I could and for sports WHDH was the home of the Red Sox, Celtics and Bruins. DJ's such as Arnie Ginsberg, Bruce Bradley, Dick Summer and others became 'close' friends. In sports I would live and die listening to Curt Gowdy, Ned Martin (Red Sox) Fred Cusick and Bob Wilson (Bruins) and Johnny Most (Celtics).
I learned so much listening to talk shows from hosts such as Jerry Williams, Bob Kennedy, Steve Fredricks and Jim Westover. Talk radio then was not filled with the hate that we have today. A host may not agree with a caller but they would debate them rationally.
Book Description:
Boston's radio history begins with pioneering station 1XE/WGI, one of America's first radio stations, and includes the first station to receive a commercial license, WBZ; the first FM radio network, W1XOJ and W1XER; and one of the first news networks, the Yankee News Service. Nationally known bandleaders like Joe Rines and Jacques Renard were first heard on Boston radio, as was one of the first weathercasters, E. B. Rideout. The city has been home to a number of legendary announcers, such as Bob and Ray, Arnie Ginsburg, Dick Summer, Dale Dorman, and Charles Laquidara; talk show giants like Jerry Williams and David Brudnoy; and sports talkers like Eddie Andelman and Glenn Ordway. Many Boston radio personalities, such as Curt Gowdy, "Big Brother" Bob Emery, Don Kent, and Louise Morgan, found fame on television but first established themselves on Boston's airwaves. Since 1920, Boston radio has remained vibrant, proving that live and local stations are as important as ever.
The pictures I have added are from various internet sources but if they bring back memories then you MUST buy this book. A big thanks to Donna Halper who obviously loves radio and the history behind it.
Jerry Williams WMEX - WBZ - WRKO
Larry Glick WMEX - WBZ - WHDH
WBZ lineup 1967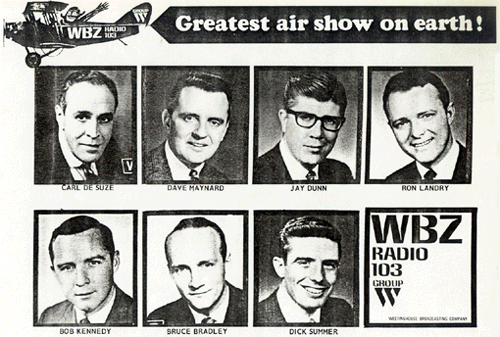 Bob and Ray WHDH 1950
Jess Cain WHDH
Norm Nathan WHDH - WBZ
The Sports Huddle - WUNR -WBZ - WEEI - WHDH
Jim McCarthy, Eddie Andleman, Mark Witkin
Johnny Most - The VOICE of the Celtics
Glenn Ordway WITS, WRKO, WEEI
WBZ Music Survey 1965
WMEX Music Survey 1966
WRKO Music Survey January 1968
Ken Mayer WBOS-WUNR WO9-8989

WBCN 1968-2009