Boston Globe Photo
John Lincoln Wright passed away on December 4th and his death has saddened many in the Cambridge-Somerville area which was home but also untold thousands across New England.
Lincoln had a large and loyal following and from the 70's into the 90's he could fill just about any club he chose to play in from the old 1369 in Inman Square to the Plough and Stars, Johnny D's and even the Middle East. He also preformed all over New England and I recall one night in Portland, Maine where he entertained thousands at

Deering Oaks Park.
It is no secret that the last twenty years were not good to Lincoln as he simply seemed to give up on life. He would waste away afternoons at the Plough, Whitney's or the CanTab and he just didn't care anymore.
He had two passions in life, music and his beloved Boston Red Sox. He recorded a Red Sox song in the mid 70's that became well known because of the chorus and it was played on stations as diverse as WITS, WHDH, WVBF and WBCN.
In the early 90's Lincoln was invited by the Red Sox to sing the anthem at Fenway Park and I don't think anyone ever saw him so happy. Of course being a perfectionist he thought he had botched it even though everybody assured him he had not.
It is almost forgotten than in the late 60's John was the front-man of a Boston rock band -
The Beacon Street Union
- that was badly mishandled by out of state record producers. The so called
'Bossound'
was eclipsed by San Francisco bands and the very good Boston bands were forgotten.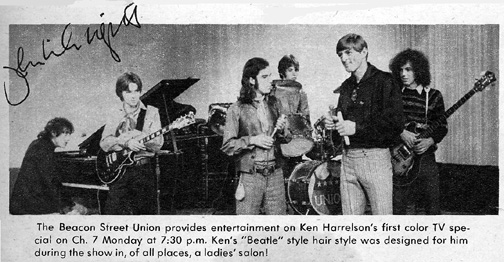 This television show captures Lincoln perfectly
The man lived to perform.
RIP Lincoln.